The Whitby Residents Association (Inc) was established about 40 years ago with the development of Whitby itself, and has played an active role in the village, and the facilities, services, and residential development.
Our village plan for 2013 itemised desirable development in Whitby and Silverwood going forward, including a 'wish list' of projects which will enhance the village and the lifestyle we all enjoy. We have ben pursuing that plan adding new pathways, developing additional parks and playgrounds, bringing new street lighting to areas of high risk, such as the lake edge pathway and the pedestrian route between the Whitby Village Centre and The Banks subdivision. More recently we have addressed algae bloom issues in the lower lake, and now have underwater aeration units and a new fountain working to improve the water quality.

This year we will be updating the village plan and identifying new initiatives and facilities to make Whitby a better place to live.
By 2030 we want to ensure that Whitby will be the most desirable place to live in the Wellington region. It will have an upper quartile quality of life for all its residents as evidenced by a wide variety of housing styles, shops and community facilities. There will be an extensive network of interconnecting walkways covering all of Whitby and a higher than normal percentage of reserves. It will be a friendly, safe, caring community which is committed to the preservation of a sustainable lifestyle. It will show a strong affinity in its local character to James Cook and his exploration of Aotearoa.
We are keen to bring new blood onto our committee, and to encourage new arrival residents to join the association and the committee. New blood means new life, and the committee needs help in identifying the preferred new projects for the future. If you can spare one evening per month, please come and join us.
Our members are definitely at the forefront, planning new ideas and projects for Whitby.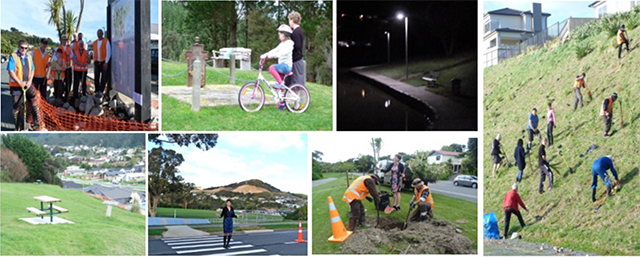 If you care about your community and want to know what is happening and why, join the Whitby Residents Association, have your say, and become part of the decision-making process.
The Association is a not-for-profit incorporated society which represents Whitby residents and ensures that stakeholders and the Porirua City Council hear the voice of the community of Whitby. We have many projects on the go, and we need more members to help us achieve for our community.
Your membership enables you to have your say about how rates are spent. We lobby for public facilities to enhance Whitby, and work towards building Whitby as a progressive community which is enjoyable to live in, plus you can learn about new work which is likely to affect Whitby, such as Transmission Gully, and Brookside Housing.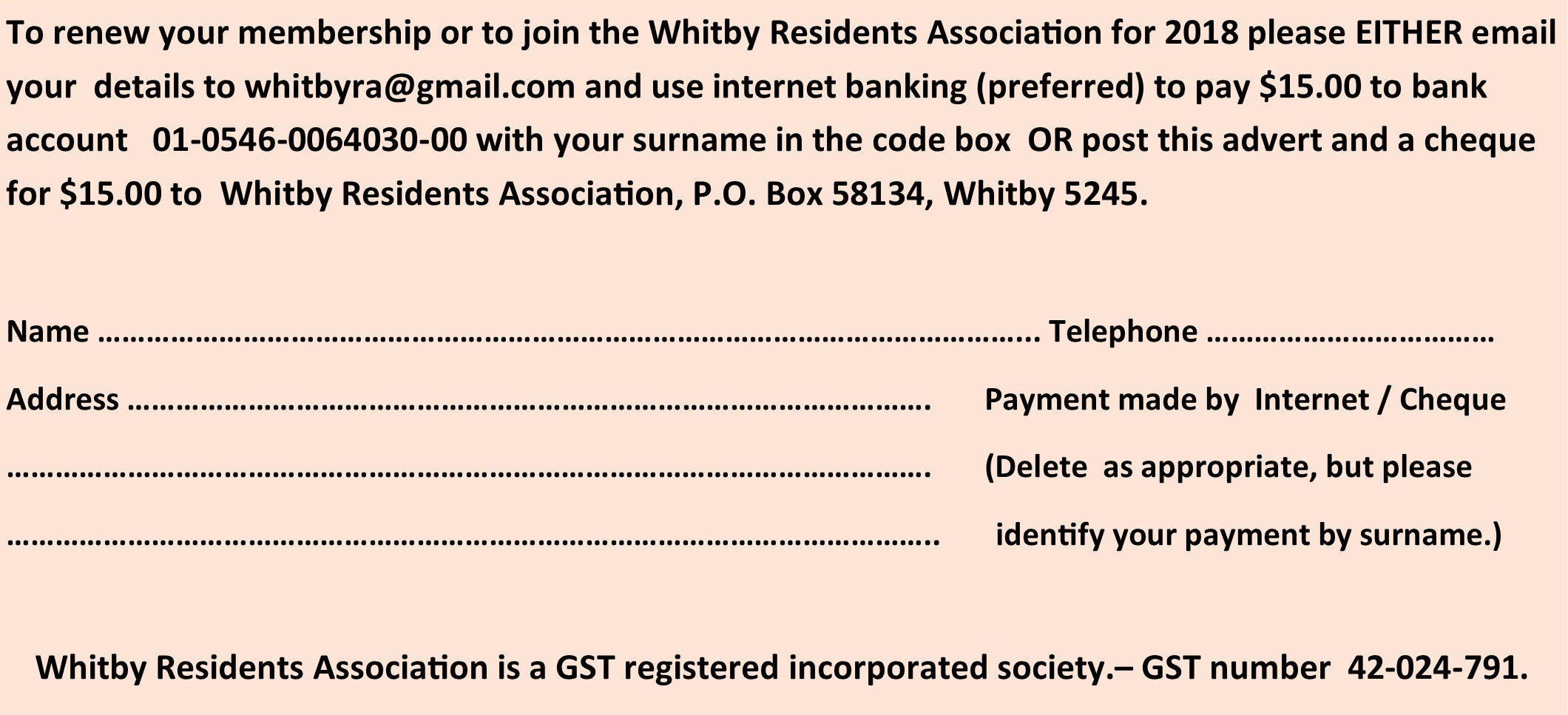 Ongoing improvements at the historic Bradey Grave
The Whitby Residents Association took over maintenance duties at the Bradey Grave in 2010. It is Whitby's only historical site, and its significance to the area was under threat of being lost under long grass, unkempt trees, and lack of maintenance.
Using a grant of $10,000 from Transpower, WRA members were able to have trees felled, new soil bought in and the site re-landscaped and regrassed, recreating the parklike surroundings of today. An additional access pathway was built from Maderia Close. Two seats were added, and new fencing improved public safety, deterring access to a steep bank on the eastern side of the site. An information panel was added at that time to explain the history of the site, the Bradey family connections, and the importance of the site to Whitby.
Last year an additional area of adjoining land was landscaped. This had been covered in high gorse which was cleared and grassed to improve the west-facing vista viewing aspects from the original site. This work was funded by Four Winds Trust, the Trust who administer the pokie machines at Whitby Co-op and Bar.
The monthly upkeep of mowing is funded by a donation from Whitby Liquor Shop, for which the WRA is very grateful. Regular working bees by association volunteers ensure that planting is maintained, and general tidy-ups are done. The steep bank on the northern side of the site suffered slippage during the storms of 2016. This has been repaired and reshaped to avoid further loss. This bank is quite steep but has been densely planted to help with ground stability and to improve the visual appearance.
For further information, please refer to the website page entitled "Why the Bradey Grave is important to Whitby".