Whitby Newsbrief is the Local Newspaper
Whitby and Silverwood have their own local newspaper, Whitby Newsbrief, which is published monthly, and circulated to 15,500 readers in Whitby, Silverwood, Pauatahanui, Camborne, Plimmerton, Mana , and Paremata, as well as recording some 6500 hits on its own website.
The newspaper is owned by Brian Lovett and Geoff Mowday, and is well read and well respected in the area. It contains a mix of local news, club news, updates from Porirua City Council, and coverage of local personalities and events.
The newspaper is delivered to household letterboxes on or about the 3rd of each month, and bulk supplies are delivered to distribution stands at Whitby Mall, Spinnaker Dairy, and Inlet Motors (Pauatahanui), as well as other points in Plimmmerton, Mana and Porirua City CBD.
The newspaper is free, and derives its income solely from advertising. For advertising enquiries, please contact Steve Maggs, tel 027 765 8303. For news and editorial coverage, contact Geoff Mowday 027 480 8071, or for production, contact Brian Lovett, tel (04) 235 9730.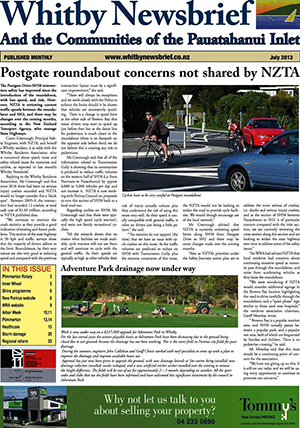 Go to www.whitbynewsbrief.co.nz for more information or to read the latest issue.